We left San Diego early Tuesday morning and headed to Phoenix… It was really interesting how the landscape changed, so far this has been the most exciting leg of the trip! I've driven down the California coast before when I went to Coachella but I've never driven east of CA.. in fact, I have never been to any of the southern states, so this trip is extra exciting!!
These rolling green hills are fairly common in California. This first pic was taken just as we were leaving San Diego.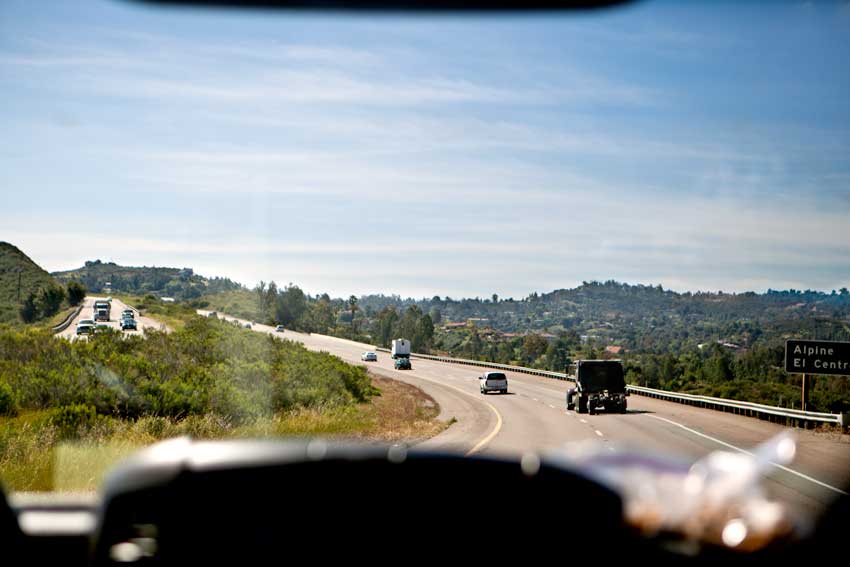 Oooh windmills!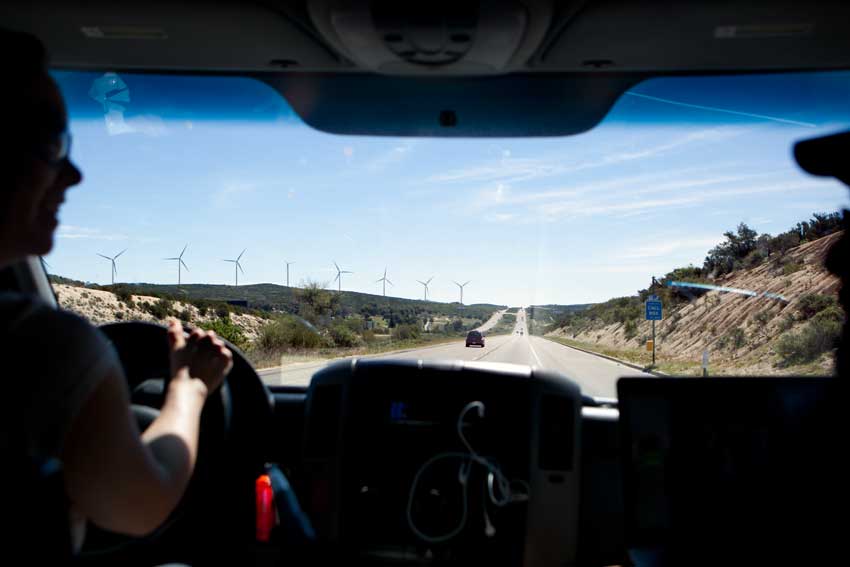 Out of no where these big, grassy, rock-covered hills appeared. I have never been to Ireland but it makes me think that these hills must look like somewhere in Ireland or Scotland…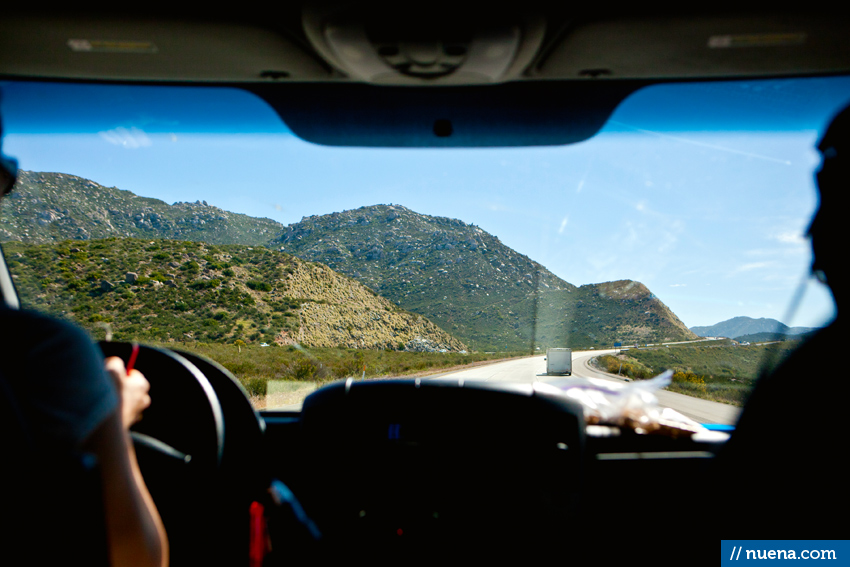 In this next photo we are getting very close to the desert. Notice how there is less grass and the hills are becoming very rocky.
The shot above was actually taken standing on the ground, when we stopped for gas (all other photos were taken while driving). It was so amazing to be standing in the desert… SO COOL!!!
When we reached Yuma, which is one of the first cities after crossing into Arizona, we decided to stop and eat. We stopped in the Yuma shopping center and a bunch of us went to In-N-Out Burger. YUM…. double double here.
If you are not familiar, Arizona has very strict laws regarding immigration. There are border patrol stations along the highway, and we knew we would be driving through one on our journey to Phoenix.
The entire Estamos Unidos Campaign was created to help fight discriminatory laws like SB1070 in Arizona – which allows local police officers to enforce federal immigration laws – allowing them to stop random people and ask for documentation. The problem with this is that the local police in Arizona are targeting latino and hispanic people, creating an environment of fear among communities. People in Arizona are being stopped and questioned based purely upon the color of their skin – undocumented people and US citizens.
There are other states, like Alabama, who passed HB56, a similar law that promotes racial profiling and allows police officers to racially profile anyone they suspect of being illegal, all contracts with undocumented immigrants are invalid (i.e. child support, leases, or jobs), and it's now a crime for undocumented immigrants to apply for a driver's license or even a job. (more info in this article about HB 56) We'll be visiting Alabama next week… EEK!! Just thinking about how these laws are segregating people and creating a constant state of fear is completely terrifying… especially because that is what the majority (crazy bible belt people) want… these southern states scare me.
I know we are pretty far removed from the southern states, but there are real people being affected by these laws – and Phoenix has been my first real eye-opening experience. Here is a great article about SB1070 – don't worry, it's a quick read.
Above: We are approaching the Sonora Desert!! This is one of the first Saguaro cactus I have ever seen!!
It was breathtaking to drive down the road and see a mini forest of cactus up ahead… I have never seen anything like it – just amazing!
Below: We got to our destination at Carl Hayden High School for a tabling event at a speakers panel about immigrant rights. The van was looking really good with the sun…
Some stickers from the tabling event…
Above is Dulce Juarez, a leader in the Arizona immigrant-rights movement. Her journey being undocumented and living in Arizona for more than 20 years has led her into leading a new movement to promote immigration reform.  She has overcome more than most people do in their entire lives and after hearing her story, you realize how fortunate you are to be a US citizen, something that many people take for granted.
Dulce is also the woman who is printed on our van! In this photo she was at an event in Alabama, protesting HB 56 – doing a pro-immigration performance art piece.  After this event, Dulce joined our van and became part of our traveling MiACLU team!
A shot from the speaking panel… this is a someone from the local Phoenix ACLU chapter.
John, from ACLU Northern California joined our van for a day, and was very excited to pump gas.
Day 1 of Phoenix was fun.  I was on an all-day high from seeing the Saguaro cactus and couldn't stop thinking about editing the pics!! It was a long and exhausting day – since joining the van I have not really had any down time to enjoy the ride… I've been editing photos from each event right away because we have wi-fi in the van and I'm trying to keep them up to date on the MiACLU Facebook in real time.