We left St. Anne Catholic Church in Carthage, Mississippi and drove to Clanton, AL for an afternoon community town hall meeting. Alabama, like Arizona, was another main target city.  After the damage Sheriff Joe Arapaio has done to Arizona, Alabama is next in line for its anti-immigrant extremist laws – in particular, HB56, which turned both local and state police officers into papers-checking immigration agent, also imposing a grab bag of criminal punishments and deterrents on undocumented immigrants, as well as on businesses and charitable organizations that help or hire them.  The people in Alabama are truly living in a state of fear.  Not only can local authorities stop drivers they suspect of being undocumented – they can even stop passengers in cars.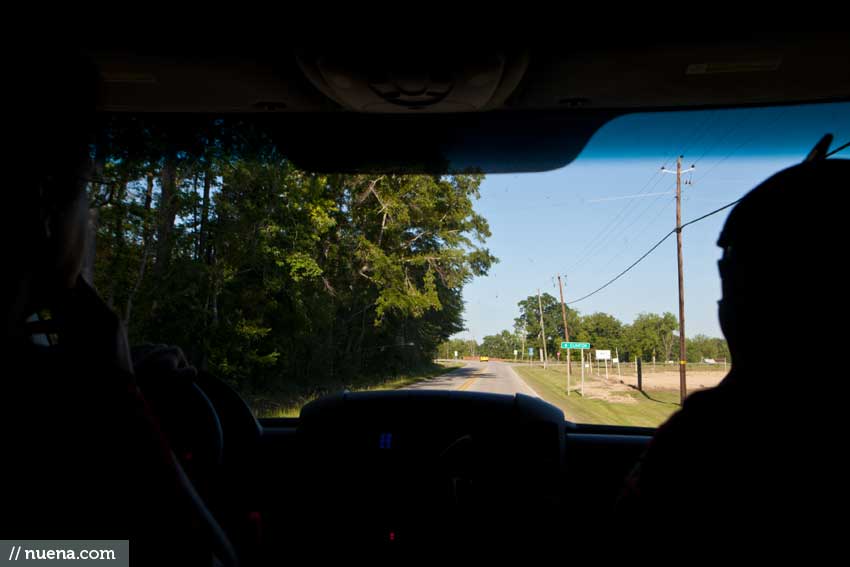 Below is a shot as we drove through Clanton…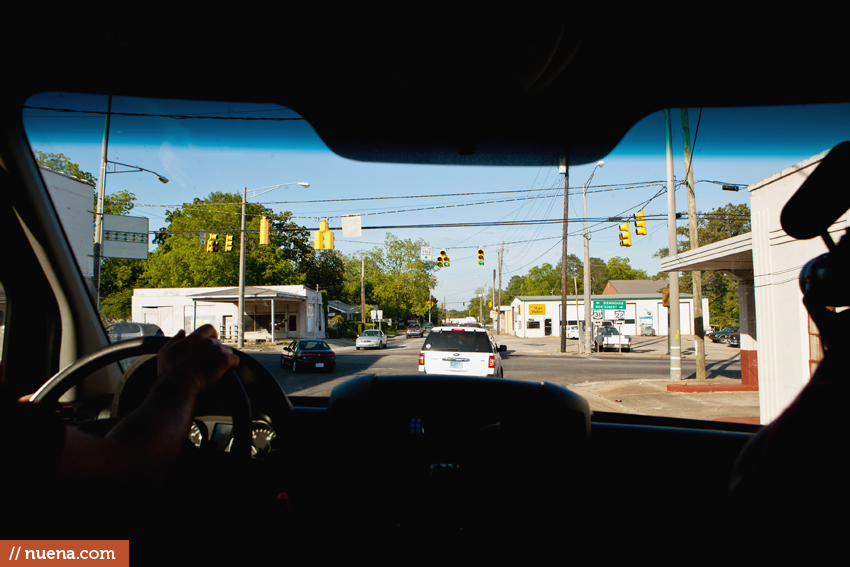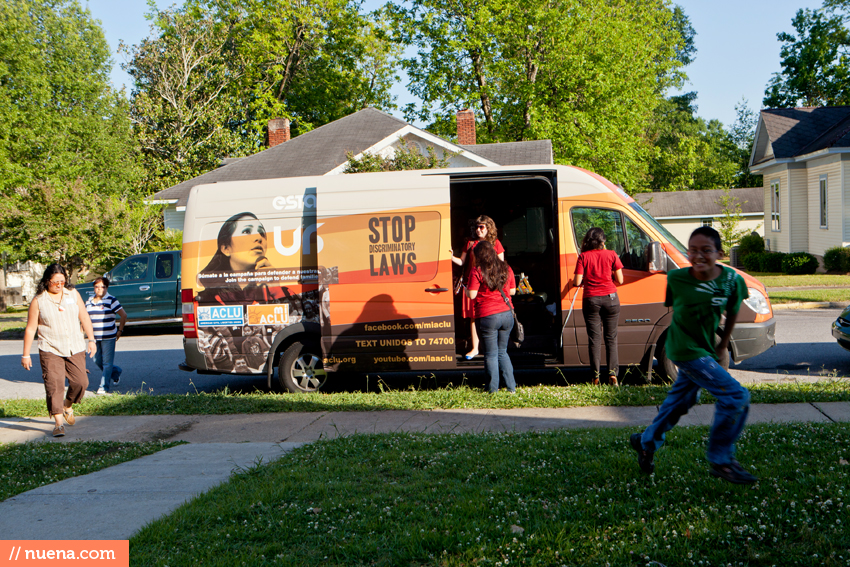 There was a table full of information and cool rubber bracelets from the Alabama Coalition for Immigrant Justice and our Estamos Unidos posters, headed up by Brandon, the 13-year old boy who inspired the whole Estamos Unidos campaign.
I took a bracelet and talked to Brandon.  To be 13 and faced with these issues is huge.  At 13, most boys this age are playing video games and sports… Brandon is on the forefront of the immigrant rights movement in Alabama.  He is speaking out against the injustice happening to the people of Alabama and inspiring people to take action.  I was so impressed by his strength and determination to keep fighting – he is wise beyond his years.
Here he is with Daniel and Dulce!
If you look closely, you can see Brandon on the Mi ACLU van!  That is him in the photo behind his shoulder wearing the zip jacket… the people depicted on the van are actual community members in Alabama.
We all went inside for a presentation and speakers – there were reps from the Alabama Immigrants Rights Coalition, reps from the ACLU of Alabama, and community members speaking out and sharing knowledge.
After the presentation, they served food for everyone.  We got yummy horchata and a pork bbq sandwich, mashed potatoes and macaroni salad (with ham).  Never had a meal like this before…!!
Si se puede!
As a group, we had an emotional goodbye – these people were so warm and the sense of community very strong.  Brandon said, "I now understand the power of words" – as his call for help in a video on YouTube was the catalyst for this entire campaign.  He believes that if we educate people about what is happening in Alabama that together we can all make a change.  The problem is that most people have no idea what is happening in our own country.  He is a glimmer of hope in a state of injustice.
After the event we headed to Columbia, South Carolina where we would sleep and then go to an event in the morning.  The internet in the room didn't work, so I couldn't upload photos… this ended up being one of my better nights of sleep.